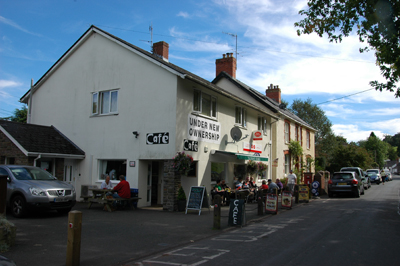 A warm welcome awaits you from Rob, Regan and all the staff.
THE CAFE IS AVAILABLE FOR TAKE AWAY DRINKS AND CAKES 9AM UNTIL 4PM.
If you would like to pre order fresh fruit, vegetables, milk, eggs, bread, papers etc please call us on 01874676663 for next day delivery. If you would like to place a meat order then let us know by a Monday for delivery on Wednesday or for all deliveries please call Keren Bender on 07814513455 who can arrange this for you.
Thank you to everyone for your support at this time.
Regan, Rob and all the staff
We are in the centre of the glorious village of Talybont-on-Usk, just opposite the picturesque Monmouth and Brecon Canal, in the heart of the Brecon Beacons.
So whether your walking, cycling, canoeing, horse riding, holidaying or just passing though, pop in to see us you will always get a friendly welcome.
Amongst the many things we stock in our shop, we also offer newspapers, lottery, health lottery, top-ups, local bread and milk – to snacks, alcohol, confectionery, coal, logs, kindling, BBQ's, welsh gifts and local produce.
We also stock maps and books about the local area, as well as a great selection of greetings cards, post cards, Welsh Gifts and local art.
Freshly made lunches, sandwiches and hot drinks in the cafe, which can be taken away as well.
We're happy to take orders for your shopping or newspapers for when you arrive in Talybont for your stay
NATIONAL LOTTERY    MOBILE PHONE TOP UPS   HEALTH LOTTERY
CLICK AND COLLECT SERVICE
OPENING TIMES
MON – FRI 7.00am – 7.00pm
SAT 8.00am – 7.00pm
SUN 8.00am – 5.00pm
We do takeaways in the cafe as well, please call us on 01874 676663 to pre-order or call in if you are just passing through
Cyclists and Walkers welcome
Free Wi-Fi for Cafe customers